CHESAPEAKE PRISON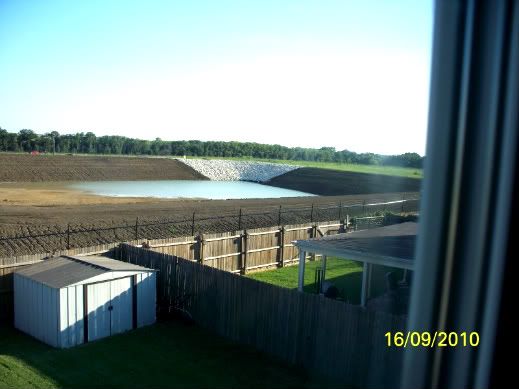 Gotta love the barbed wire. Very nice touch, Chesapeake!
Update:
This Monster FRAC Pond was plowed up (*cough* *cough*) and moved a few feet south just two weeks ago and now sits 150 feet from the backyards of Westchester Valley neighbors:
neighbors who have NOT signed mineral leases.
It had been measured at just 10 feet from our neighbors' backyards
when this picture was taken on September 16, 2010
~
I guess everything is all better, now.

Seems to us that even if you don't sign a MINERAL LEASE with Chesapeake, you may just end up with a Monster FRAC Pond in your dining room and/or a Pad Site in your backyard. Because Whatever Chesapeake Wants, Chesapeake Gets. Homeowners Beware!!